1. A construction pioneer 'made in Switzerland'
Our VSL name stands for Vorspann System Losinger, a wire prestressing system first patented in Switzerland in the early 1950s.
VSL was a pioneer of post-tensioning

systems for the pre-stressing of concrete

:

it

revolutionized the design and construction of concrete bridges.

It

allowed

for larger spans

and

new construction methods, making it simpler and faster.
2.

T

ailor-made

and

efficient

construction

methods
Our force is to bridge the gap between design and construction through our multi-faceted expertise, ranging from technologies to technical and operational skills.

Many challenges

have an impact on a project

:

physical constraints, complex geology,

tight

scheduling, dense urban environments, budget

..

.

We enjoy integrating

them

to imagine the best

solutions and construction

methods

to turn even the most complex projects into reality.
3. Mastering

technologies

& equipment
We continuously

make

our

technologies

and equipment

evolve

to

remain at the top

of quality,

safety

and speed of construction.

 

This

R&D and continuous improvement approach includes

r

igorous testing

p

rocesses

to evaluate our

technologies

through pe

rformance and

behavioural

tests.

The d

es

ign,

fabric

ation

,

maintenance

and decommissioning of

specialist construction equipment

is

supported

by a

pool of specialists

available worldwide

.
4. Benefiting from our local presence & shared knowledge
We mix a g

eographic proximity to our clients

in about 25 countries

with the experience and expertise of four Business Lines

,

technical centers and centrali

z

ed supply chain and factories

to support our local businesses worldwide

.
5.Ever better performance for our clients' satisfaction
In 2020, VSL launched the Be More company-wide project, dedicated to continuous improvement of performance. The objectives are to raise the level of quality and create value and ever-better satisfaction for our clients.
Be More is all about how we work at VSL: it is based on a customer-focused approach, and involves all company functions and processes, giving all employees the power to question how we work, and to improve it. Not only is it based on a collective mindset, it also mainly makes use of lean management principles and tools.
In parallel with local actions at the level of our VSL entities, five pilot projects are being specifically supported by a lean management approach, to gain experience and learn from these works. These projects are HS2 (foundations) in the UK, Central Kowloon Route (ground injection) and Cross Bay Link (external post-tensioning) in Hong Kong, Gecama wind farm in Spain, and VSL's Technical Centre (design process) in Singapore.
6. Nurturing VSL's collective knowledge & brainpower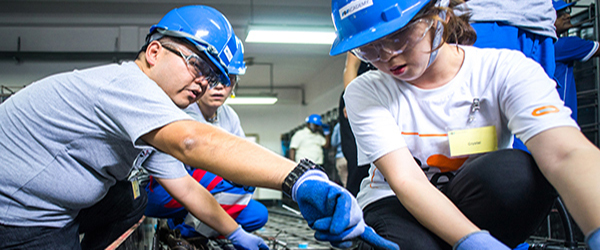 Since 2008, our VSL Academy has the ambition of applying VSL's technical excellence and ever-growing quality and safety standards throughout our network.