REACHING NET ZERO CARBON WITH GEOTHERMAL ENERGY
How 100% of the thermal energy demand of a village of 300 homes will soon be met by renewable energy? While wind and solar power are usually mentioned when it comes to renewable energy sources, Swaffham Prior, in East Cambridgeshire (England) has chosen an innovative heating solution based on geothermal energy. VSL and Bouygues Energies & Services have been working in partnership to deliver the Swaffham Prior Heat Network for Cambridgeshire County Council.
Swaffham Prior is the first village in the UK to retrofit a renewable heating network into an existing community. Currently most of the residents in the village rely on oil to provide heating and hot water in their homes, the remaining use either electric or other alternative sources. Not only is oil a fossil fuel and carbon intensive, it contributes to local air pollution and makes the village more vulnerable to global challenges that can contribute to shortages and inflated oil prices.
The Bouygues Energies & Services team has been working to deliver this community heating system which will contribute towards Cambridgeshire County Council's ambition of reaching Net Zero carbon by 2045 for Cambridgeshire, preserving the local environment and reducing the impacts of climate change.
Geothermal heating system: how does it work?
VSL, an expert in foundations and ground engineering, has undertaken the drilling of the deep boreholes required for the ground source heat array installation. Installing the necessary in-ground heat exchange pipes involved VSL mobilising up to 4 specialised drilling rigs controlled by highly skilled operators, whilst working together with the wider team to drill 20km of boreholes below ground, approximately 108 boreholes altogether. Less than the 130 boreholes originally estimated at the start of the project.
A U-shaped pipe has been installed which will enable the heat retained in the earth to be brought to the surface via a pump. The heat is then transferred to provide hot water and heating for homes and community buildings in the village. Green electricity will be supplied locally from a solar park in Cambridgeshire and together with the local ground heat will demonstrate how local energy supplies can be used for heating and hot water and help cut almost all operational carbon emissions in the process.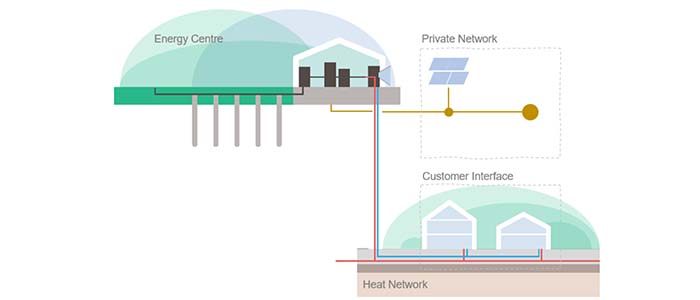 A partnership to accelerate the transition to net zero carbon
Miles Messenger Head of Energy Performance Contracting at Bouygues Energies & Services said, "This project is an exceptional example of how a partnership between a forward-thinking local community, a committed local authority and Bouygues Construction can collaborate to deliver decarbonisation goals. It showcases technical, commercial, and social innovations, which should help to accelerate our transition to net zero carbon. We're delighted to have had an opportunity to collaborate with our sister company VSL, who brought industry-leading expertise and much-needed capacity to deliver this complex ground-source borehole array installation."
Sandro Gomes, Ground Engineering Manager at VSL Systems UK said, "VSL UK is proud to have been involved in the Swaffham Prior project alongside Bouygues Energies & Services, which sees an entire community switching from heavy fuel oil to a decarbonised ground source heat network. We have reduced the CO2 emissions on the project by over 90% with our plant – boring holes measuring over 200m – running on hydrogenated vegetable oil instead of diesel. We are proud of our continued work in the renewable energy sector."
Cllr Lorna Dupre, Chair of the Environment and Green Investment Committee at Cambridgeshire County Council said, "This project was envisioned by local residents and is the first of its kind in the county. We are very excited to be working with Bouygues to retrofit renewable heat into an existing community. The County Council's Joint Administration has big ambitions to get to Net Zero by 2045 and working in partnership to decarbonise a village like Swaffham Prior will be a template for others to follow. As with any innovative project there will be challenges and learning along the way, and we are glad to have the technical expertise of Bouygues Energies & Services and VSL supporting us."